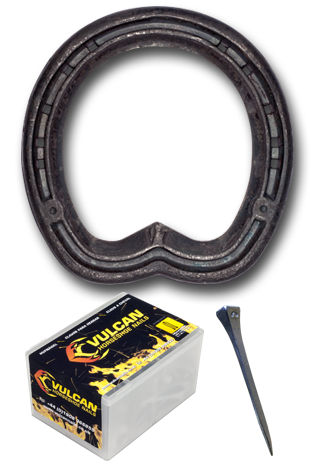 VULCAN HORSESHOES AND NAILS – CUTTING EDGE QUALITY
Vulcan Horseshoes and Vulcan Horseshoe Nails are fast becoming one of the leading brands in innovative and high quality products for farriers around the world. Our passion for the production of ground breaking, best value products is firmly rooted in our family experience as professional working farriers.
Constantly developing and evolving better horseshoes and nails to fulfil the needs of real farriers, our product engineers are not just talented innovators, they are real farriers themselves. Each Vulcan product goes through months (if not years) of real testing and evaluation to produce a final result that exceeds expectations gives farriers true confidence in their materials.
Our unique manufacturing processes and global distribution network ensure that all Vulcan Horseshoes and Vulcan Nails are high on value and always readily available.
The expanding Vulcan range currently includes:
Vulcan USA Steel Horseshoes
Vulcan Concave Steel Horseshoes
Vulcan Quality Competition Steel Horseshoes
Vulcan EP (English Pattern) Steel Horseshoes
Vulcan RM (Roller Motion) Steel Horseshoes
Vulcan Sprint Light Racing Steel Horseshoes
Vulcan Sprint 3/8 Racing Steel Horseshoes
Vulcan Sprint Wide Web Racing Steel Horseshoes
Vulcan Sprint Light Racing Aluminium Horseshoes
Vulcan Sprint Wide Web Racing Aluminium Horseshoes
Vulcan Blenkinsop Steel Horseshoes
Vulcan X Steel Horseshoes
Vulcan Straight Bar Steel Horseshoes
Vulcan Heart Bar Steel Horseshoes
Vulcan Egg Bar Steel Horseshoes
Vulcan Horseshoe Nails